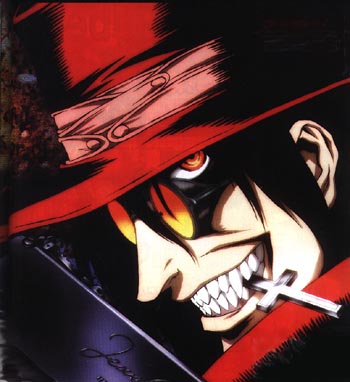 Hellsing
(

ヘルシング

,

Herushingu)
is a Japanese
manga
series written and illustrated by
Kouta Hirano
. It first premiered in
Young King Ours
in 1997 and ended in September 2008. The individual chapters are collected and published in
tankōbon
volumes by
Shōnen Gahosha
. As of March 2009 all chapters have been released in 10 volumes in Japan.
Hellsing
chronicles the efforts of the mysterious and secret Hellsing Organization, as it combats
vampires
,
ghouls
, and other
supernatural
foes who threaten England.
The manga series is licensed for English language release in North America by
Dark Horse Comics
, in Australia and New Zealand by
Madman Entertainment
, and in Singapore by
Chuang Yi
. In 2001, Hirano began publishing chapters of a prequel series,
Hellsing: The Dawn
, in special editions of
Young King OURs
, with six chapters released as of September 2008.
An
anime
series of the
same name
was produced by
Gonzo
. Directed by
Umanosuke Iida
, the series was based on the manga, but used a screenplay by
Chiaki Konaka
and is significantly different from the manga in terms of plot, though it uses some of the same characters and similar character designs. Spanning 13 episodes, it was broadcast on Japan's
Fuji Television
from October 10, 2001 to January 16, 2002.
An
original video animation
(OVA) entitled
Hellsing Ultimate
is being produced by
Geneon
. It follows the manga storyline more closely than the anime series.
The first episode was released in Japan on February 10, 2006, and as of February 2012, nine episodes have been released. The sixth OVA in the series was made available on both DVD and Blu-ray; both Blu-ray and DVD editions of episodes one through five are available in Japan as of October 22, 2010.
The first episode was released in North America on December 5, 2006. As of August 2010, four episodes of the OVA have been released in North America. At Anime Expo 2010 Funimation Entertainment announced that they have licensed four of the new OVA episodes 5-7 but no release date has been set


Labels
ai yori aoshi
aishiteruze baby
AKB48
alice nine
amagami ss plus
angel sanctuary
another
aoyama thelma
arashi
aya kamiki
ayumi hamasaki
black lagoon
bleach
blood +
btooom
c-ute
card captor sakura
chobits
Citations
code geass
cook
cosplay
cowboy bebop
cuisine
db kai
dbz
death note
detective conan
devil may cry
DNA²
download
Dr. Rin ni Kiitemite
dragon ball gt
dragon ball kai
dress
durarara
Dusk Maiden of Amnesia
elfen lied
evangelion
Eyeshield 21
facebook
fairy tail
fanpage
fashion
fate stay night
fate zero 2
film
flumpool
fma
forgiveness
fruits basket
fullmetal alchemist
g dragon
gantz
générique
generique de pokemon
generiques
girl
great teacher onizuka
GTO
guilty crown
gundam
gundam wing
hello
hellsing
HEY SAY JUMP
High School DxD
high school girls
Highschool of the dead
hotd
hunter x hunter
hyouka
inuyasha
iron man
jam
jar
K-on
Katanagatari
koda kumi
Korokke
kpop
l'arc-en-ciel
last exil
last moment
love hina
love story
Lovely Complex
lovers
lucky star
lyrics
mahaleo
mai kraki
manga
meaning
meisa kuroki
mobile game
mode
moi dix mois
movie
name
nami tamaki
namie amuro
Nana
Nana Mizuki
naruto
naruto fighting
naruto shippuden
neon genesis evangelion
omae dattanda
one piece
orange range
ost
page
pita ten
poëme
pokemon
prince of tennis
pub
quotation
quotes
ramen
recipe
record of lodoss war
sachi tainaka
sailor moon
samurai champloo
scandal
serie
shaman king
sheet music
shunkan sentimental
Sister Princes
skirt
skyline
Slam Dunk
song
soul eater
the gazette
top
Tous les generique en français
Tsubasa Reservoir Chronicles
u and I
utada hikaru
v ardfightv anguard
vampire knight guilty
video
visual kei
Wolf's Rain
yamada ryosuke
you and I
your eyes
yui
Yuna Ito
ZARD
zetman